Our Personal Space
released February 14, 2015
a sci-fi relationship simulation visual novel
"A tale of cooperation, peaceful, interesting lives, democracy, love and community" -- Rock, Paper, Shotgun
"Little House on the Prairie mingled with Star Trek." -- JayIsGames
Summary
Our Personal Space is a marriage survival sim set on a space colony in the near future. Playing as a newly married woman, choose how she spends her time, how she responds to her husband and other members of the community, and how she contributes to the colony. These choices affect her stress, her marriage, and the success of the colony.
Praise for Our Personal Space
"...explores the adventure, romance, and everyday challenges of a new marriage on an alien planet." -Catherine White, author of Cupcake Girl
"...reiterates the fact that marriage is not the 'happily ever after.' It's the 'once upon a time.'" -Mary Tueller Whipple
"...delivers a heart-warming (or heart-breaking!) tale of two space colonists far from anything they might call familiar." -Lance Meibos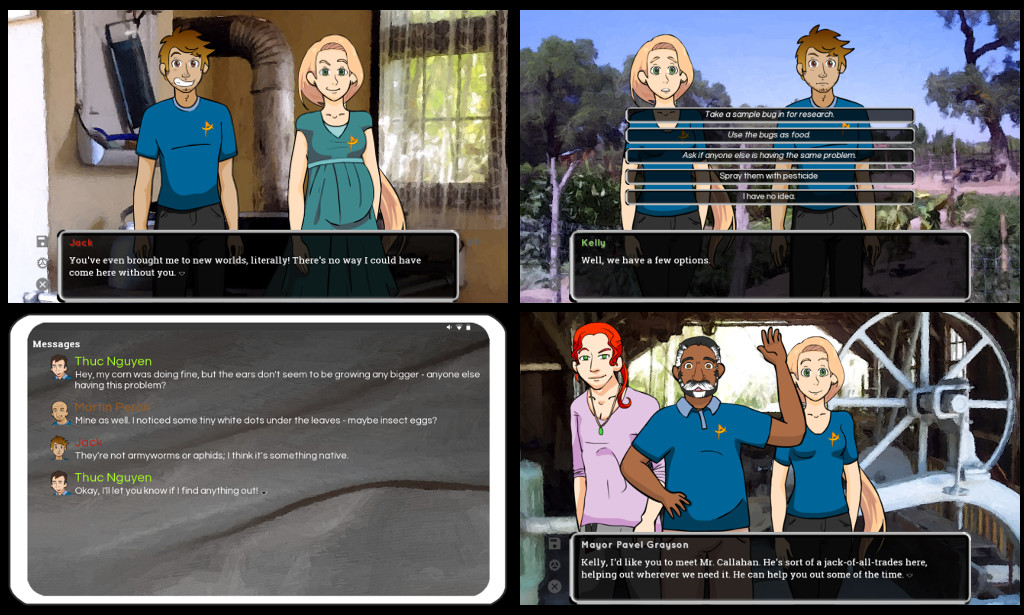 Features
Interactive dialogue lets the reader decide Kelly's attitude and approach to every event, as well as major decisions such as having a baby
100,000 words of dialogue spread between 4 jobs, 7 hobbies, and 3 endings allow for a variety of playing styles
A community of interrelated NPCs with their own motivations, families, and stories
Science fiction setting blends modern technology and old-fashioned frontier improvisation
Open source code licensed under the GPLv3 and other licenses.
Made with Ren'Py
Android, Google Play and the Google Play logo are trademarks of Google Inc.